Name:
Asayina Haruka Fukinagi
Race:Vampneko
Age:17
Occupation:O.o idk
Appearance: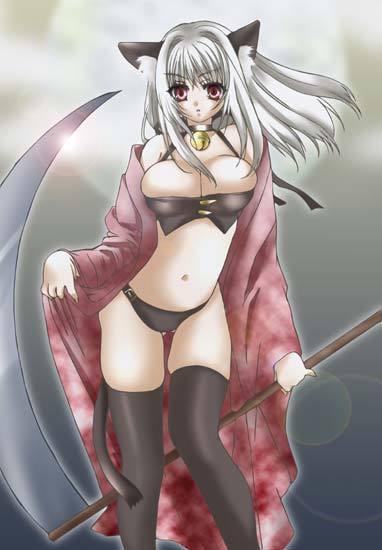 Bio:she never grew up normal she never meet anyone like herself no one else she ever meet was part vampire part neko.only she was she only had her older brother damien and her wolf to keep her company her parents died in a fire.her brother damien is 27 and does everything in his power to protect her.she loves to sing and cook she carries around a sythe((the one in my appearance))is was her grandfathers she never leaves with out it.everyone that knows her calls her asy or asa.She is quiet and dosent talk much when she sings she can put people to sleep and with her gaze she can hyponotize people.
Deity:The god/godess or demonic lord/demoness you worship. You don't have to worship one. Worshiping one can give you certain special spells or effects though.
Starting equipment:My Sythe,Food,Clothing,and My Wolf Toki
Starting Spells:Nemuri Kashou ((sleeping song)),Hyponotizing Gaze



Posts

: 2


Join date

: 2009-04-05


Location

: -.- not in a location box thats for sure



Admin




Posts

: 10


Join date

: 2009-04-03




---
Permissions in this forum:
You
cannot
reply to topics in this forum